| | | |
| --- | --- | --- |
| | | CULTURAL TOURS TO CENTRAL EUROPE AND BEYOND |
TRASIMENO FESTIVAL – ANGELA HEWITT and FRIENDS
Renaissance fresco cycles with
PIERO DELLA FRANCESCA and St FRANCIS

27 June - 6 July 2017

Our 9th visit to the Italian festival, established in a glorious Umbrian setting by the charismatic Canadian concert pianist Angela Hewitt OBE. Recitals are given in the courtyard of the Knights of Malta castle near Lake Trasimeno or in charming baroque theatres in Cortona and Perugia, a wonderfully converted Franciscan church in Trevi, piano concerto and orchestral concerts in a magnificent abbey church in Perugia.

We stay in a charming hotel right on the lake which makes a relaxing base with its swimming pool and adjoining pier for gentle boat trips to the islands. Even on an excursion day there is time in the afternoon to rest or swim before supper and the 10 minute drive to the concert. Virginia Woolf wrote how she would far rather have stayed by the lake than in hot and steamy Perugia.

Excursions are made to Assisi (Giotto fescoes), Perugia, Cortona and Orvieto (Signorelli frescoes). We follow the Piero della Francesca trail to Arezzo (The True Cross frescoes and Mary Magdalene) - Monterchi (the Madonna del Parto) and Sansepolcro (Resurrection and Madonna della Misericordia). Art history tours of the major fresco cycles cover the same ground without the concerts!

We have lunches at carefully selected restaurants on our excursions and suppers at our hotel and also three very special gala dinners with Angela Hewitt (wine and coffee included).

A short film about the 2013 festival can be viewed on YouTube.
Cost: £3280 to include return scheduled flights to Rome, transfers, 9 nights accommodation,
8 concerts, 3 lunches, 9 suppers including 3 Gala Dinners. Single supplement £280.
Deposit £400 pp.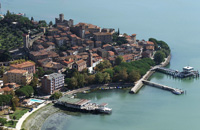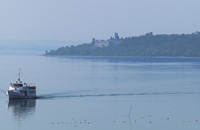 Tuesday 27 June
Flight Heathrow – Rome (dep Heathrow Terminal 5 at 12.45). Coach to hotel and supper.
Wednesday 28 June
09.30 Introduction to Passignano and free afternoon.
Supper at hotel.
20.00 coach departure for Opening concert in the Basilica di San Pietro, Perugia :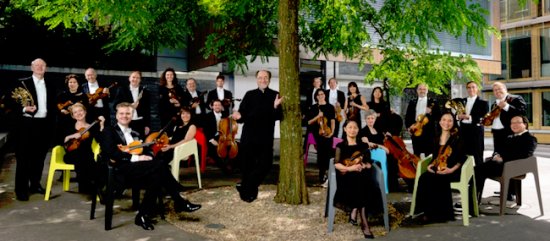 Angela Hewitt with the Zurich Chamber Orchestra conducted by Sir Roger Norrington.

Mozart Don Giovanni overture;
Mozart Piano Concerto No 20 in D minor K466;
Beethoven Symphony No. 3 in E-flat major "Eroica"

Thursday 29 June
Boat to the Islands – where St Francis once spent Lent. Lunch. Free afternoon.
17.30 Coach to Castle of the Knights of Malta, Magione for talk by Sir Roger Norrington followed by Gala Dinner and solo recital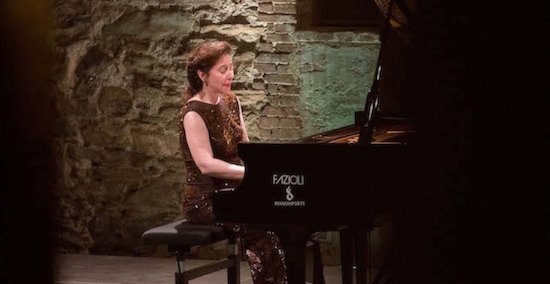 Angela Hewitt

J.S. BACH
Fantasy in C minor, BWV 906
Aria Variata "alla Maniera Italiana", BWV 989
Partita No. 3 in A minor, BWV 827
Sonata in D minor, BWV 964
Capriccio in E major, BWV 993
Fantasia and Fugue in A minor, BWV 904

Friday 30 June
Free morning then 13.00 coach to PERUGIA - Collegio del Cambio and Umbrian National Gallery followed by 16.00 recital in the Sala Podiana of the National Gallery

Anne Sofie von Otter (mezzo) and the cutting-edge American string quartet Brooklyn Rider in the programme they gave at Carnegie Hall earlier this year.

Philip Glass: Three Selections from "Suite from Bent"
Caroline Shaw: "Cant voi l'aube"
Colin Jacobsen: "For Sixty Cents"
John Adams: "Am I In Your Light?" from "Doctor Atomic" (arr. Evan Ziporyn)
Tyondai Braxton: ArpRec 1
Nico Muhly: So Many Things
Leóš Janácek: String Quartet No. 1 "Kreutzer Sonata"
Björk: "Cover Me" (arr. Erik Arvinder)
Björk: "Hunter" (arr. Vince Mendoza)
Anders Hillborg: "Kvall"
Elvis Costello: "Speak Darkly, My Angel" (arr. Rob Mathes)
Kate Bush: "Pi" (arr. Kyle Sanna)

Back to hotel for supper then 20.30 coach to castle of the Knights of Malta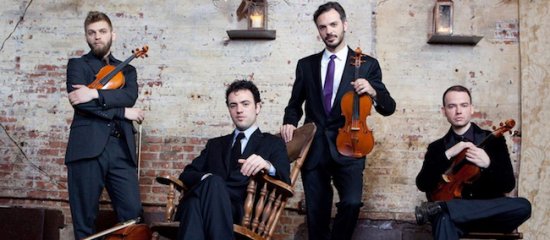 Angela Hewitt, piano
Brooklyn Rider, string quartet

Bach: Partita No. 6 in E minor, BWV 830
Beethoven: Piano Sonata in E major, Op. 109
Colin Jacobsen: Beloved, do not let me be discouraged
Beethoven: String Quartet No. 11 in F minor, Op. 95 ("Serioso")

Saturday 1 July
09.00 coach to ASSISI with Basilica and Giotto frescoes. Lunch. Back to hotel for free afternoon.
18.00 coach to Perugia for Gala Dinner in National Gallery then concert in the Teatro Morlacchi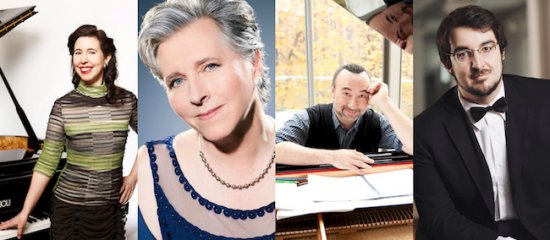 Canada Day Festivities : Four Canadian Pianists
Angela Hewitt, Janina Fialkowska, Jon Kimura Parker and Charles Richard-Hamelin

4 Fazioli grand pianos in suitable pieces for 2, 3 and 4 pianos.
Sunday 2 July
Free morning. 12.00 Coach to SPELLO (Pinturicchio) and MONTEFALCO for the Benozzo Gozzoli Life of St Francis fresco cycles then TREVI for Supper and Concert in Chiesa di San Francesco.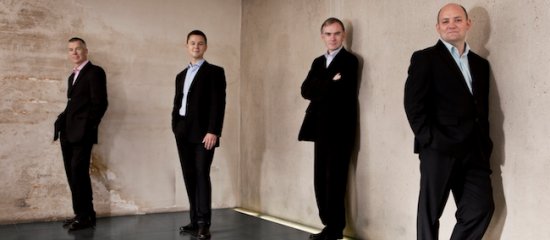 The Orlando Consort
Renaissance polyphony


Monday 3 July
Free morning then coach to CORTONA for Gala Dinner and Recital at Teatro Signorelli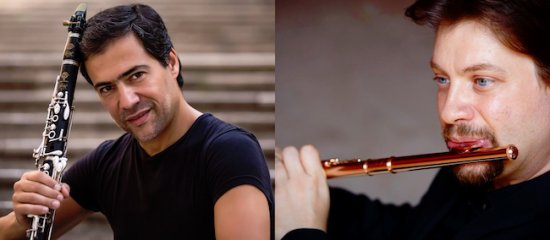 Andrea Oliva, flauto
Alessandro Carbonare, clarinetto
Angela Hewitt, pianoforte
Other musicians to be announced

Bach: Trio Sonata from The Musical Offering, BWV 1079
Mozart: "Kegelstatt" Trio in E-flat major, K. 498
Bach: Sonata for flute and keyboard in E-flat major, BWV 1031
Mozart: Clarinet Quintet in A major, K. 581

Tuesday 4 July
Free day – boat to Castiglione sul Lago or train to Perugia.
Supper at hotel then to the Castle for closing concert :
Angela Hewitt plays Scarlatti and Beethoven

Programme to be announced
Wednesday 5 July 09.00 PIERO DELLA FRANCESCA TRAIL: Arezzo (The True Cross frescoes) - Monterchi (the Madonna del Parto) - Sansepolcro (Resurrection and Madonna della Misericordia). Lunch. We see all the most important Piero frescoes and his birthplace. Final dinner at hotel.
Thursday 6 July
09.00 coach for ORVIETO with fresco cycle by Signorelli. Then Rome airport for BA flight arr Heathrow 19.10


Meals in bold are included – with wine and water and coffee. Our hotel is a just short walk from the boat terminal so it is possible to go to the islands and back in a free hour or to sit by our private pool. The railway station is a few minutes away with a regular and easy journey into the heart or Perugia.

Programme subject to alteration.

back